Press Release from Rough House Promotions, LLC:
Boxing Returns to Waterloo, IA with Local Boxers Kevin Cruz and Greg Sykes Leading the Charge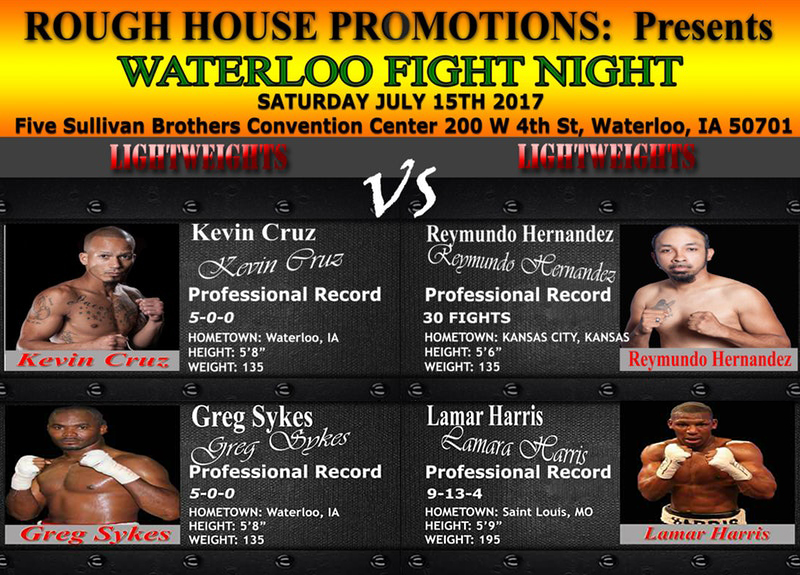 (WATERLOO, IA) This Saturday evening (July, 15, 2017), Waterloo is in is in for a hard-hitting, action-packed 8 bout night with the "Waterloo Fight Night" event at the Sullivan Brothers Convention Center. This will be the first fight card in the planned series held at this venue. This fight card will start the statewide boxing resurgence brought forth by Rough House Promotions.
Waterloo resident and undefeated boxer, Kevin Cruz (5-0, 3 KOs), looks to enthrall his hometown in his first bout in Waterloo since his debut three years ago.
Born in Rio Piedras, Puerto Rico, Cruz has called Waterloo home for many years now, training at local gym, 4th Street Boxing Gym.
The Lightweight Cruz will be squaring off with 28 fight veteran, Reymundo Hernandez of Kansas in a scheduled 6-Round Main Event.
Cruz stated, "I am hungry. I want to get somewhere in this sport. I am excited to fight in front of my family and my friends."
In the Co-Main Event, Cruiserweight Greg Sykes (5-0, 2 KOs), is making his long awaited return to the ring at home.
Also training out of 4th Street Boxing Gym, Sykes enters the ring for the first times since 2014 and carries an unblemished record that includes a stunning victory over Chicago prospect and former world kickboxing champion Simon Buettner back in 2014.
The Undefeated Sykes is matched up with Des Moines' Tristan James 0-0-1) in a 4-Round affair.
Sykes added, "It is very exciting to me, to bring the fights to my hometown where all of my fans are."
Both Cruz and Sykes are promoted by Hitz Boxing Promotions and showcasing themselves local in preparations for something more grand.
TICKETS ARE STILL AVAILABLE, IN LIMITED SUPPLY! TICKETS FOR THE "WATERLOO FIGHT NIGHT" START AT $25 AND ARE AVAILABLE AT https://goo.gl/saawwT OR CALL: 319-415-2619. TICKETS MAY ALSO BE PURCHASED THE NIGHT OF THE EVENT, WHILE SUPPLIES LAST.
ON FIGHT NIGHT, DOORS OPEN AT 6:30 PM. FIRST BELL AT 7 PM. THE SULLIVAN BROTHERS CONVENTION CENTER IS LOCATED AT 200 W. 4TH STREET IN WATERLOO.
Full Show Lineup, with plenty of Iowa flavor:
Main Event – Lightweight – Undefeated prospect Kevin Cruz of Waterloo, IA faces off with Reymundo Hernandez of Atchison, MO – 6 rounds
Co-Main Event – Cruiserweight – Unbeaten Greg Sykes of Waterloo, IA steps in with Tristan James of Des Moines, IA – 4 Rounds
Lightweight – Lance Williams of Muscatine, IA vs. DeWayne Wisdom of Indianapolis, IA – 4 Rounds
Super Lightweight – Zach Knox of Fort Madison, IA vs. Noel Rodriquez of Dayton, OH – 4 Rounds
Welterweight – Unbeaten Stephen Edwards of Davenport, IA vs. Carlos Cabrera of IA – 4 Rounds
Welterweight – Mark Sainci of MI vs. Chris Jackson of East Chicago, IN – 4 Rounds
Super Middleweight – Undefeated BJ Tomlinson of IA vs. Brian Long of IA – 4 Rounds
Heavyweight – Travis Fulton of Cedar Falls, IA vs. TBA – 4 Rounds
NOTE: Bouts subject to change and without notice.
###
ABOUT ROUGH HOUSE PROMOTIONS, LLC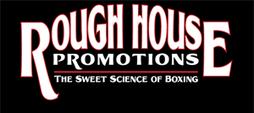 Founded by Salomon Becerra to be the most active Boxing Promoter in Wisconsin. Becerra has been a driving forces in the boxing scene in Wisconsin since 2009, and is still working hard to make it better.
The founder has been a booking agent, matchmaker for some of the biggest and best promoters around the US, like Top Rank, Golden Boy, Hitz Boxing, Peltz Promotions, Dibella Entertainment, Gary Shaw and many more.
We at Rough House Promotions will bring competitive action-packed, championship fights to the fans and the great states of Wisconsin, Iowa, and beyond.
For more information on Rough House Promotions, like us on Facebook @roughhouseboxingpromotionsllc.
CONTACTS:
Jay Kemp
#NextGenChamp
me@jaykemp.com
224.637.3777 (cellular)
312.473.3000 (office)