Press Release from Seconds Out Promotions | SO Fights:
Photos by: Jesse Kelley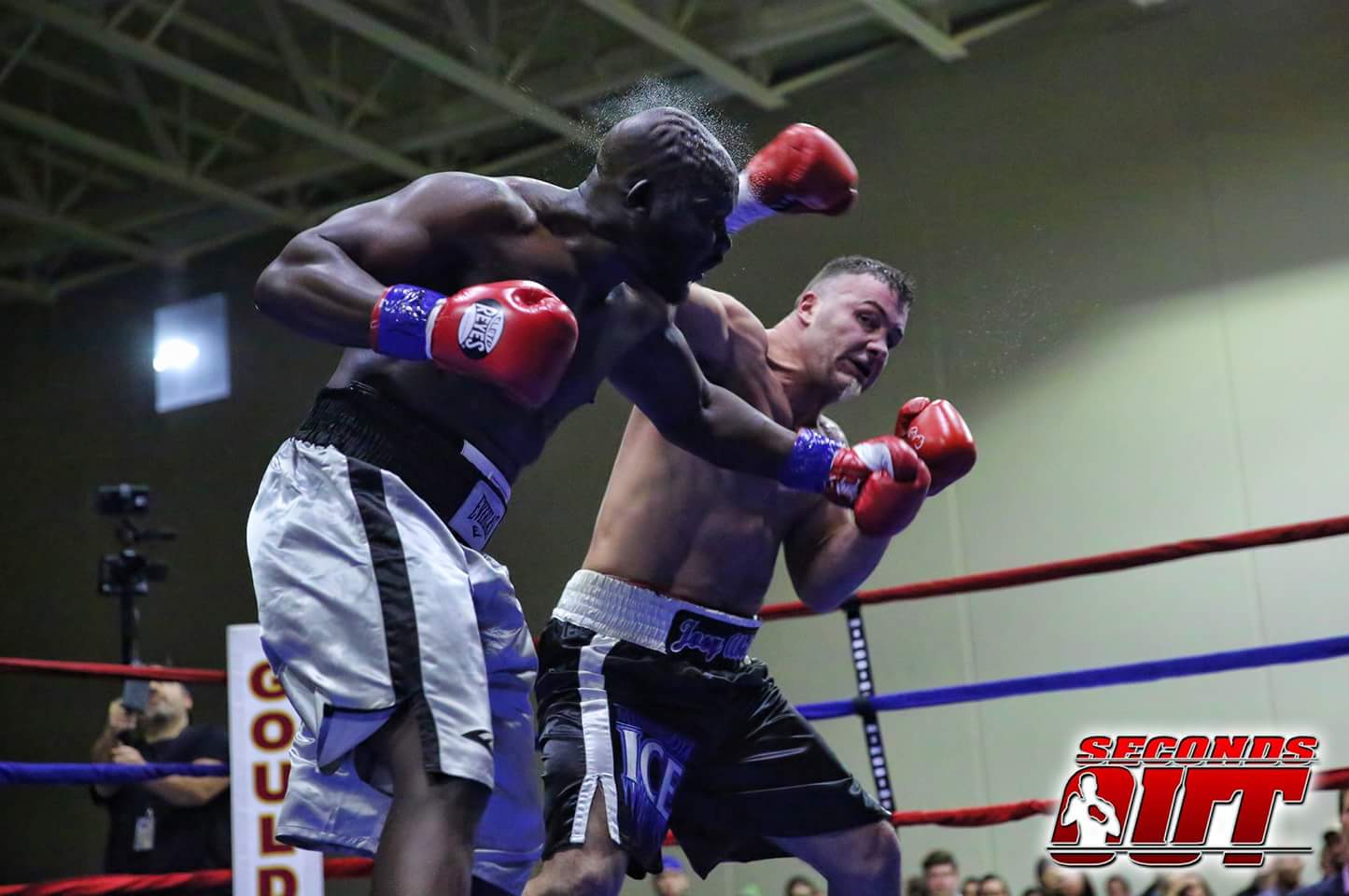 Joey "Minnesota Ice" Abell (33-9, 31 KOs), of Coon Rapids, MN, kept his KO Streak going in the Minnesota Heavyweight clash with Raymond Ochieng (26-21, 21 KOs) from Ham Lake, MN at the Blaine Sports Center on Saturday evening.
The Southpaw, Abell, struck right away with a couple jabs and a left to the head that stumbled Ochieng. Abell pounced right on and delivered the first knockdown within 30 seconds of the opening round.
A vicious left to the chin of the advancing Ochieng sent him back to the canvas just before the bell to end 1st Round. Ochieng just barely survived the round.
Merely 21 seconds into the 2nd Round, Abell, crushing left found the mark again on the chin, sending Ochieng to the floor and the bout was waved off by Referee Scott Erickson.
At 35 years old, Minnesota Ice proved that he still has the power to make a legit threat in the Heavyweight division. His astonishing 3rd Round TKO win over previously undefeated Wes Nofire on Premier Boxing Champions on FS1 on May, 17, 2016 at Black Bear Casino in Carlton, MN furthers that conclusion.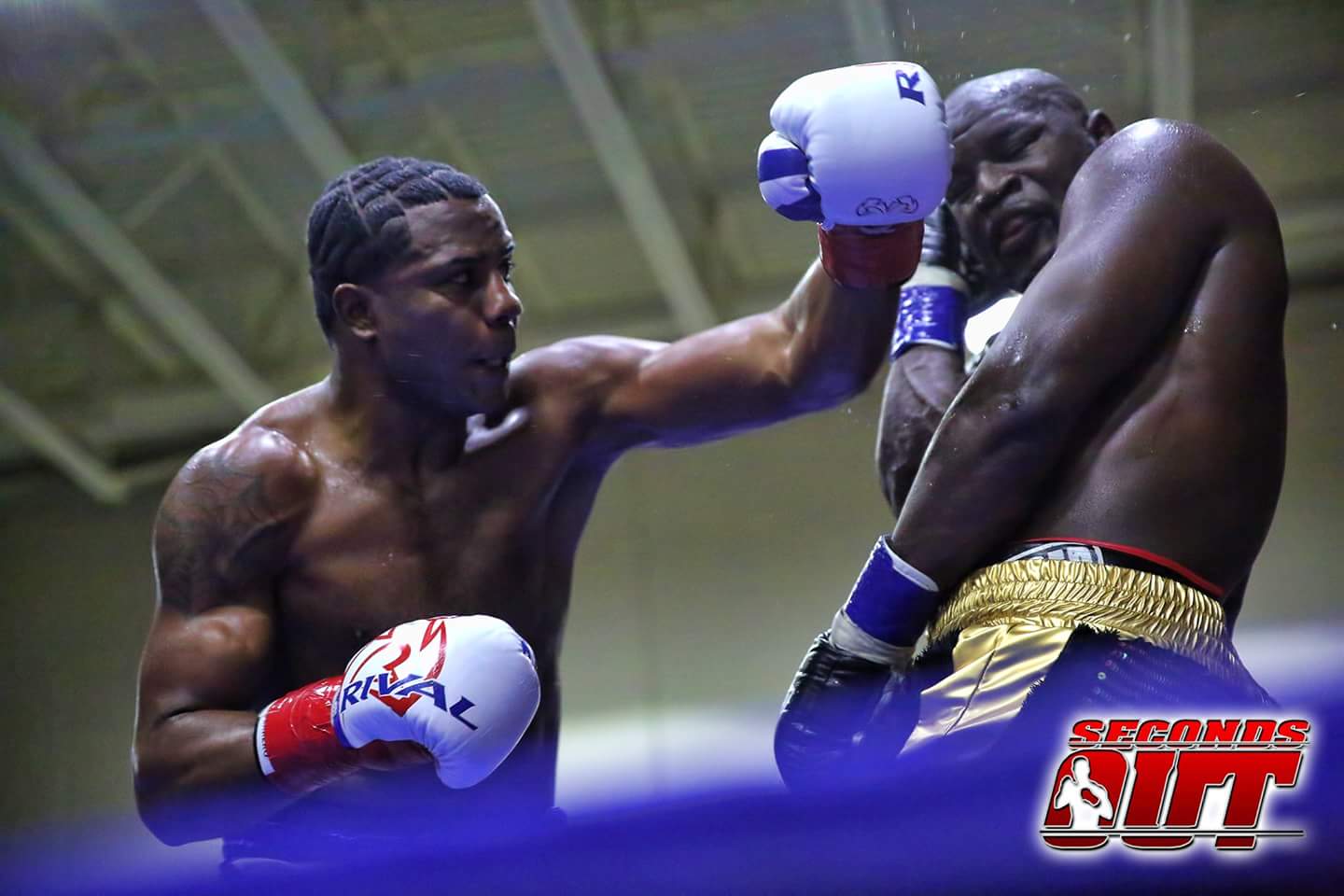 In the Co-Feature, Cruiserweight Ramon Nicolas (10-2, 6 KOs) of Miami, FL, originally of Cuba, took the attack to rugged veteran Darnell Boone (23-24-4, 12 KOs) of Atlanta, GA. Nicolas' stiff jabs and well placed rights kept Boone confused on his attacks as he stood steady and clearly outpointed Boone.
Nicolas claimed the Unanimous Decision victory with scores of: 79-73, 78-74, 79-73.
Also in action:
Cuban born Light Heavyweight Irosvani Duvergel (2-0, 2 KO) made quick work of veteran Fred Thomas with punishing lefts and rights to body and head. Duvergel crushed Thomas with a right to the body and a left hood to the head that sent Thomas to the floor. Referee Mark Nelson saw that Thomas took enough punishment and stopped the bout at 1:16 in the 1st Round of a scheduled 4-Rounder.
Two weeks prior, Duvergel made his successful debut on Seconds Out show in Milwaukee, WI, an early dismantling of Alec Ivy.
Junior Middleweight Prospect Uriel Lara (2-0, 2 KOs), of Coon Rapids, MN, shook off the jitters from his debut in January and delivered a body attack on Canadian Desmond Johnson. Lara's body work hammered Johnson into submission at :55 in the 1st Round.
"Wolfman" Marty Lindquist (14-10, 11 KOs) of Blaine, MN made his return to action at 47 years of age and years away from the ring, bringing a ton of howling fans with him. Unfortunately, he could not get close enough to mount enough of an attack to neutralize his taller opponent, with the long reach, in 19-fight veteran Martez Williamson of Akron, OH.
Williamson nearly shutout the Wolfman en route to the 4 Round Unanimous Decision. Official Scores: 40-36, 39-37, 39-37.
Despite the L, Lindquist delighted the fans with his spirit and perseverance.
###
About Seconds Out Promotions | SO Fights:
Was established in 2005 by Tony Grygelko and took the local boxing scene by storm. Seconds Out Promotions' first contracted fighter was boxing super star and Minnesota's favorite fighter "Golden" Caleb Truax. In 2006, their 2nd event featured Matt Vanda vs. Anthony Bosante. They broke state records with the highest grossing event in Minnesota history drawing over 11,000 in attendance.
That was in 2006. It's 2017 and things haven't slowed down a bit. Seconds Out Promotions continues to be one of the fastest-rising fight promotional companies in the professional boxing and MMA arenas, not just in Minnesota, but world-wide.
If you're wondering, "How?" The answer is twofold. Through good, old-fashioned determination, integrity and hard work. But also by providing something most other boxing promoters can't—an insider's view from an ex-pro fighter's perspective. Tony fought southpaw at the Super Welterweight class advantage and has never lost sight of the fighting industry from a boxer's perspective. He strives to be the type of promoter that he would have wanted when he was a fighter.
Seconds Out Promotions recruits and develops the best and brightest fighters and helps them gain opportunity, marketability and exposure to further advance their careers. At the same time, fans receive the highest quality programming available. So far, it's been a winning combination.
For more information on Seconds Out Promotions, visit their website at www.sofights.com
CONTACT:
Jay Kemp | NextGenChamp.com
me@jaykemp.com
224.637.3777 (cellular)
312.473.3000 (office)