Press Release from Seconds Out Promotions | SO Fights:
"WAR"
Phil Williams Vs Mengistu Zarzar for the MN State Cruiserweight Title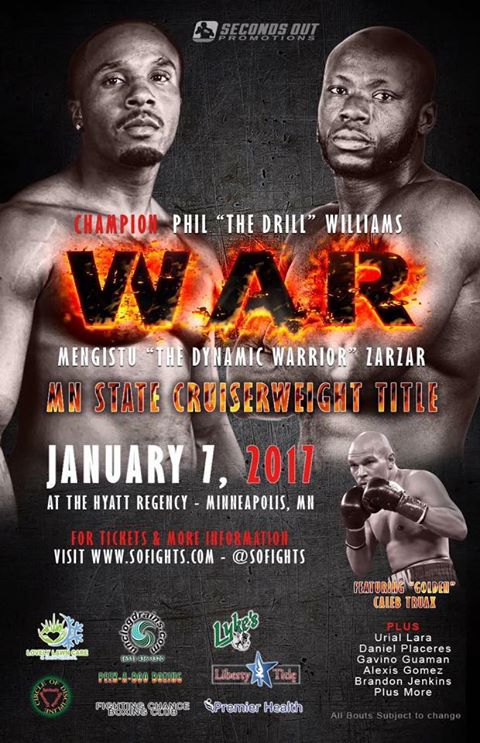 Minneapolis, Minnesota (January 2, 2017) – Starting 2017 with a BANG!!
#WAR
Phil "The Drill" Williams (15-9-2, 14 KOs) will face Mengistu "The Dynamic Warrior" Zarzar (6-0, 5 KOs) for the MN State Cruiserweight Championship in the Feature Bout of "WAR" on Saturday, January 7 at the Hyatt Regency in Minneapolis. This matchup is expected to bring 8 rounds of hard-hitting action and excitement.
"I have seen what Phil Williams has accomplished in his career but it's my turn now!" proclaims Zarzar, who is looking to prove that he is one of the best cruiserweights in the country.
Williams took possession of the MN State Title with a 1st Round TKO victory over Al Sands in August of 2015.
#TheReturn
This show will also feature the Minnesota return of "Golden" Caleb Truax (27-3-2, 17 KOs) as the Co-Feature, squaring off against Maryland's Joshua Okine (29-7-1, 17 KOs) in a scheduled 10-round bout.
Truax is making his return to his homeland where he has only fought once in the last three years, a 4th Round stoppage of veteran Melvin Betancourt in February of 2016 in Carlton, MN. Truax was last in action in August, in neighboring Wisconsin, disposing of Zach Kelley with an emphatic 2nd Round KO. He will be looking to carry the momentum towards another world title shot in the very near future.
Okine is coming west, after returning from his birthland of Ghana with a rebound Unanimous Decision win over his countryman George Amuzu in October, following a string of losses in 2015 and 2016.
#TheDebut
SO Fights is excited about the pro debut of Urial Lara on January 7th!! He will be the next Mexican American superstar in boxing!
Lara, now of Coon Rapids, Minnesota, will step inside the ropes opposite 16 fight veteran, Fred Thomas, of Davenport, Iowa in a scheduled 4-Round Bout.
Additional bouts include:
Super Lightweight – Stan Martyniouk battling Justin Savi for a scheduled 8 Rounds
Super Lightweight – Livan Navarro fighting in his first career 8-Round bout versus Gilbert Venegas
Tickets are going fast! Tickets for "WAR" Phil Williams Vs Mengistu Zarzar at the Hyatt Regency start at $35 and are available at www.sofights.com.

Show Venue:
Minneapolis Hyatt Regency
1300 Nicollet Mall, Minneapolis, MN 55403
* On Fight Night (Saturday, January 7), Doors Open at 6:00 pm and the action starts at 7:00 pm
NOTE: Bouts subject to change and without notice.
###
About Seconds Out Promotions | SO Fights:
Was established in 2005 by Tony Grygelko and took the local boxing scene by storm. Seconds Out Promotions' first contracted fighter was boxing super star and Minnesota's favorite fighter "Golden" Caleb Truax. In 2006, their 2nd event featured Matt Vanda vs. Anthony Bosante. They broke state records with the highest grossing event in Minnesota history drawing over 11,000 in attendance.
That was in 2006. It's 2016 and things haven't slowed down a bit. Seconds Out Promotions continues to be one of the fastest-rising fight promotional companies in the professional boxing and MMA arenas, not just in Minnesota, but world-wide.
If you're wondering, "How?" The answer is twofold. Through good, old-fashioned determination, integrity and hard work. But also by providing something most other boxing promoters can't—an insider's view from an ex-pro fighter's perspective. Tony fought southpaw at the Super Welterweight class advantage and has never lost sight of the fighting industry from a boxer's perspective. He strives to be the type of promoter that he would have wanted when he was a fighter.
Seconds Out Promotions recruits and develops the best and brightest fighters and helps them gain opportunity, marketability and exposure to further advance their careers. At the same time, fans receive the highest quality programming available. So far, it's been a winning combination.
For more information on Seconds Out Promotions, visit their website at www.sofights.com.
CONTACT:
Jay Kemp | NextGenChamp.com
me@jaykemp.com
224.637.3777 (cellular)
312.473.3000 (office)