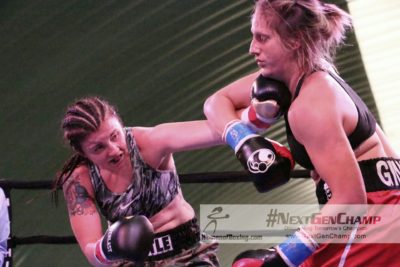 Friday night's Rosemont Rumble, presented by Hitz Boxing and Round 3 Productions, included the #WomenofBoxing with a Catchweight matchup of local Welterweights seeking their first wins of their young career.
Sarah Curran, of McHenry, IL and debuting Amanda Ginski, of Pingree Grove, IL squared off in the second bout of the action-packed Rosemont Rumble.
Early on in the 1st Round, an overhand right from Curran really started the Rumble. She continued her Tyson-like movement to work inside on Ginski – cracking with a leading left hook or left cross to the body or head, depleting the 6+ inch height advantage with a massive reach.
Ginski kept up with the jabs, trying to keep the distance, while Curran kept up the pressure. "Savage" delivering a solid, stunning right to the head staggered Ginski near the end of the 2nd Round.
Ginski came out fierce in the 3rd Round, sensing that she needed to make up points, but "Savage" Curran bobbed and weaved to avoid major attacks, while popping her well-placed power shots at will.
Curran starts the 4th Round jumping in with crushing rights and left. Ginski, needing the points, pushes the jabs and starts finding the counters on Curran.
After 4 Rounds, the judges saw it majorly in Curran's favor. Official scores: 40-36, 40-36, 39-37 getting Curran back to an even 1-1 record with huge improvements since her July 2016 debut loss with undefeated Bertha Aracil.
Video via Fight Night Live Facebook Live stream – Bout starts around 45 minutes in:

Pictures: